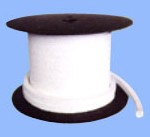 CIXI DONGFENG SEALING & PACKING PRODUCTS CO., Ltd - www.chinaptfe.com
- NO.225 Jinsha Road, Cixi, Zhejiang Province, China, 315300 Ningbo, China

Susan Jeray, email, Tel. +86-574-63226633

Cixi Dongfeng Sealing & Packing Products Co., Ltd. has been specialized in manufacturing and supplying a full range of industrial sealing products since established in 1980.
products: mechanical seals
Gasket Seals: spiral wound gasket, ring joint gasket, lens gasket, serrated gasket, cam profile gasket, double jacketed gasket, reinforced graphite gasket, die formed graphite packing ring, non-asbestos gasket, etc.
Gasket Material & Sheet Jointings: Expanded graphite sheet, tanged graphite sheet, non-asbestos sheet, asbestos rubber sheet, asbestos-free gasket sheet, wool felt sheet, ceramic fiber cloth, etc.
Gland Packing / Compression Packing: PTFE braided packing, PTFE graphite packing, flexible graphite packing, carbon fiber packing, Kevlar packing, asbestos packing, fiber glass packing, etc.
PTFE products: Expanded PTFE joint sealant, Expanded PTFE valve stem packing, PTFE sheet/rod, extruded PTFE tubing, PTFE diaphragm, PTFE O-ring, PTFE gasket, etc.
Rubber products: rubber o-ring, rubber oil seal, rubber extrusion, rubber sheet, etc.